We were there when MALU's debut single, Polish, came out in April earlier this year and became our Cover Art Artist for that week. Now we get to hear her second single with No Hearts and it's just quality music from the Danish artist. If this production was on a spectrum, The Weeknd's Earned It would be on the opposite end because of those powerful horns and keys in chords you hear. MALU takes it in a direction that is more poppy in its approach. 
MALU's theme is about not pretending that the current situation of this relationship is more than what it is. You don't have to put on a façade and just be honest with one another. When you are among yourselves, you can just be yourself and enjoy each other. The video I was a little disheartened because of how short it was.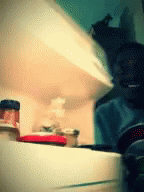 She just got to the meat of the song and took the video starting there. It looks like she was in the middle of a daydream as one scene she's laying in bed and in the next, she's on one of those floating beds out at some big pond with a special, loving friend of hers. You see a lot of shots in that setting of those two together and they look like they are having a great time. And then all of a sudden, she's back in her room. Heck of a daydream I'd say.